ClearMedi Monark Cancer Hospital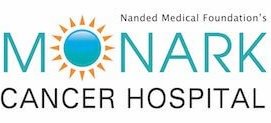 Behind District Court, Near Andhra Samiti School, Gowlipura, Nanded – 431601 (Maharashtra)
Let us get you a free Specialist opinion
Located in holy city of Nanded, ClearMedi Healthcare has collaborated with Nanded Medical Foundation, to manage and operate 'Monark Cancer Hospital'. ClearMedi Monark Cancer Hospital is a 30-bed integrated healthcare facility, providing comprehensive cancer care under one roof. The hospital has all major Medical, Surgical, Radiation and Diagnostic facility (like CT).

The established centre is the only Oncology Centre in Nanded city within the radius of 200 kms. Radiation Oncology department is equipped with state-of-the-art Linear Accelerator (Elekta Synergy Platform) delivering high end modality treatments like VMAT, IGRT, IMRT.
The hospital has a team of experienced and well-trained Oncologist in Medical, Surgical and Radiation departments, other experienced consultants & paramedics.
Hospital caters to all segments of patients providing a range of accommodation to choose from. It also provides cashless treatment under government Schemes like MJPJAY & PMJAY.
RADIATION ONCOLOGY SERVICES





SURGICAL ONCOLOGY SERVICES





Chemotherapy for all malignancies

Pain management in cancer

SUPPORTIVE CARE & PREVENTIVE ONCOLOGY

On call dietician to take care of nutritional guidance in cancer patients.

On call psychologist to deal with psychosocial issues in cancer patients.

Counsellor to educate general population, high-risk group individuals and families, etc.

Special packages for cancer screening and cancer vaccination.

Guidance for getting logistics support, health insurance, financial support etc.